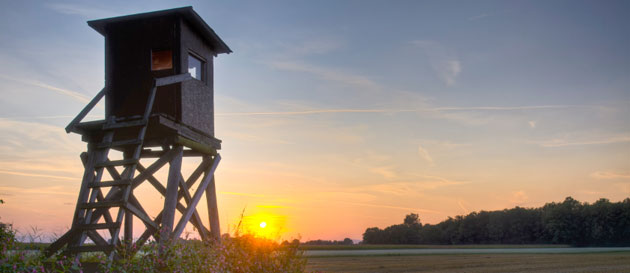 Hunting Lease Tips
---
Published 9/13/13
With hunting season upon us, it's a good time to review your hunting lease agreement. A well-written lease can make the experience better for both you and your lessee. Make sure the lease is specific to your land, needs, and goals rather than using a generic lease. The more detailed the lease, the better protection it provides for you and your property.
---
How to Write a Hunting Lease
Names of all parties who will be utilizing the land – If a hunting club is leasing your land, make sure the club is incorporated. If several people are going in on the lease as a group but are not incorporated or in an LLC, make sure all parties sign the agreement.
Describe exactly what you are leasing to them – Make sure the property boundaries are clear or include an aerial photograph of the property with boundaries shown in the lease agreement. If there are any exceptions to access or use of the property (use certain roads, at certain times of day, must be out at a certain time), write these out in detail in your agreement.
Payment terms – Clearly define the costs, times for payment, forms of payment, whether a deposit is required, the period of time that the cost is valid for (if you plan to review the rates in a year, then limit the time period), etc. The more detailed you are in describing the payment terms, the less chance there is for confusion and a disagreement later on.
Renewal and termination terms – If you would like to provide your lessee with an option to renew the lease, then be sure to include these terms. This may encourage the lessee to treat the land better and help them feel better about any improvements to the property that they make.
Be clear about when and how the lease can be terminated. What do you do if the lessee violates your agreement? What if you sell the land? Think through all possible scenarios and then address each clearly.
Rules and responsibilities – Make sure that you define and review with your lessee any rules you want to include in the lease. Examples include: how many people can be on the property, whether guests are allowed, that drinking is not allowed, who maintains the property, any check-in requirements, any vehicle restrictions, etc.
Have each lessee read and sign a sheet acknowledging the rules. Also define the responsibilities of the lessee – making sure gates are closed and locked, cleaning up trash, maintaining roads, keeping game harvest records, abiding by state hunting regulations, etc.
Liability waiver – You might think it is understood that there is inherent danger in hunting and that everyone gets that, but put it in writing that your lessee is assuming the liability of hunting on your land and the risks that accompany the activity. The waiver should state that the lessees are agreeing to hold you harmless in the event of an accident. You should also require the hunting club or lessee to purchase liability insurance and name you the landowner as an additional insured party.
---
More Information
There are many scenarios to consider and options to discuss when developing a hunting lease. For more information and resources on hunting leases, visit our Hunting Leases page.
Read more about liability waivers.
This article is for educational purposes only and is not intended to replace the need for legal advice from a professional. Seek advice from a lawyer when considering liability issues, leases, waivers, or other legal tools.