Getting Funding
---
After you have written your business plan, it will be clear how much financing you need. Often, small business owners finance their start-ups with their own money or loans from friends or family and sometimes private investors. Some may seek out financing from a bank where they have an existing relationship. Other financing resources can be found below:
Your local Small Business Development Center, Extension office, and the U.S. Small Busienss Administration are all valuable resources to suggest places to seek funding and for funding resources.
Mississippi Resources
Specific Enterprises
Mississippi State University Publications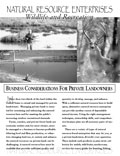 Business Considerations for Private Landowners (PDF)
Mississippi State University Extension Service
Mississippi State University Extension Service. The first step to planning a natural resource enterprise is writing up a business plan to determine if the business is realistic. Next, determine what physical, financial and labor resourses are available. Marketing, organizational and financial plans are necessary to determine if the business will succeed.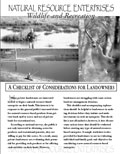 A Checklist of Considerations for Landowners (PDF)
Mississippi State University Extension Service
This is a list of things to consider before starting a natural resource enterprise. It includes the determining what resources are available, such as land and buildings and wildlife populations, determining if the land's natural resources can be used for more than one purpose and if a sufficient labor force is available, liability insurance, how long the enterprise will last, the willingness of the family to participate in the enterprise, finding customers, the location of the business and how easy it is to access, and creating a business plan. A worksheet is provided to help evaluate the success of a potential natural resource enterprise.
How to Create a Business Plan