Farmers' Markets
Offer local producers and opportunity for increasing income
Often become a tourist attraction
Can feature special events to attract customers
Must have clear rules and regulations
Need liability insurance
Farmers' Markets
Farmers' markets provide an opportunity for local agricultural producers to increase their income from farm products. By providing high quality produce, farm products, and cut flowers, vendors can often charge higher prices compared to supplying these wares to other markets. Vendors often establish relationships with their customers by interacting with them at the markets. Farmers' markets can foster tourism in small communities, often becoming a destination for tourists and locals.
The farmers' market manager is integral to the success of the market. and must have many skills to keep the market running smoothly. Clear rules and regulations can help make a successful market. Managers must handle the recruiting of new vendors, ensure compliance with laws and regulations, ensure customer safety, handle the day-to-day management activities, promote the market, and evaluate its success.
The popularity of farmers' markets is growing - as more and more people are looking to purchase organically grown produce and locally grown produce. Many farmers' markets also supply their communities with a gathering place and a source of entertainment and leisure.
Mississippi State University Publications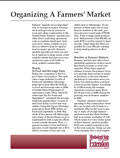 Organizing a Farmers' Market (PDF)
Mississippi State University Extension Service
Farmers' markets offers local growers and producers the opportunity to increase farmers' income from agricultural fields. Farmers' markets foster tourism in rural communities, and can become a destination for tourists and locals alike. This publication covers the trends in food and beverage sales, the benefits of farmers' markets, the role of local government, and tips for organizing a farmers' market.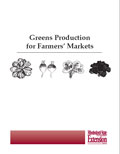 Greens Production for Farmers' Markets (PDF)
Mississippi State University Extension Service
Greens include turnip and mustard greens, collards, and kale. Know the preference of your local customer when planting greens. This publication covers selecting a site for planting greens, the use of fertilizer, the varieties, seeding rates, planting rates, irrigation, and weed and insect control.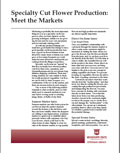 Specialty Cut Flower Production: Meet the Markets (PDF)
Mississippi State University Extension Service
This publication discusses the different markets for cut flowers. Farmers' markets allow the grower to charge higher prices and to develop a relationship with their customers.
Other Publications
A Guide to Starting, Operating, and Selling in Farmers Markets (PDF)
Arizona Cooperative Extension
This guide provides tips on starting a farmers market including the advantages and disadvantages, initial organization, getting vendors or sellers, choosing a location and facilities. It also discusses the aspects involved in operating a farmers market including management and leadership, hours of operation, products, stall fees, sales tax collection, insurance, clean-up, and local regulations. Advertising and promotion is also discussed. For producers, it discusses how to sell in a farmers market.
How to Create a Business Plan